The Ferrari 812 Superfast: Ignore the odd "childlike" nomenclature (...we should be used to it by now), with 799 hp and a V12 engine Ferrari has just revealed its fastest production car ever!
This model is the newest (and best yet) addition to the Ferrari lineup, it will be replacing the F12 Berlinetta and Ferrari promises top notch performance and power on this one.
Detailed comparison between the Ferrari 812 Superfast and the F12 Berlinetta
The 812 Superfast has got a fairly more aggressive styling compared to the last F12 and there's also some history involved here, this model is meant to reminisce the 1969 Ferrari 365 GTB4 to celebrate 70 years for Ferrari!
We've got more curved headlamps upfront with new LED lights, a narrower radiator grille and most importantly, active aerodynamic flaps at the front guaranteed to boost down force and reduce drag!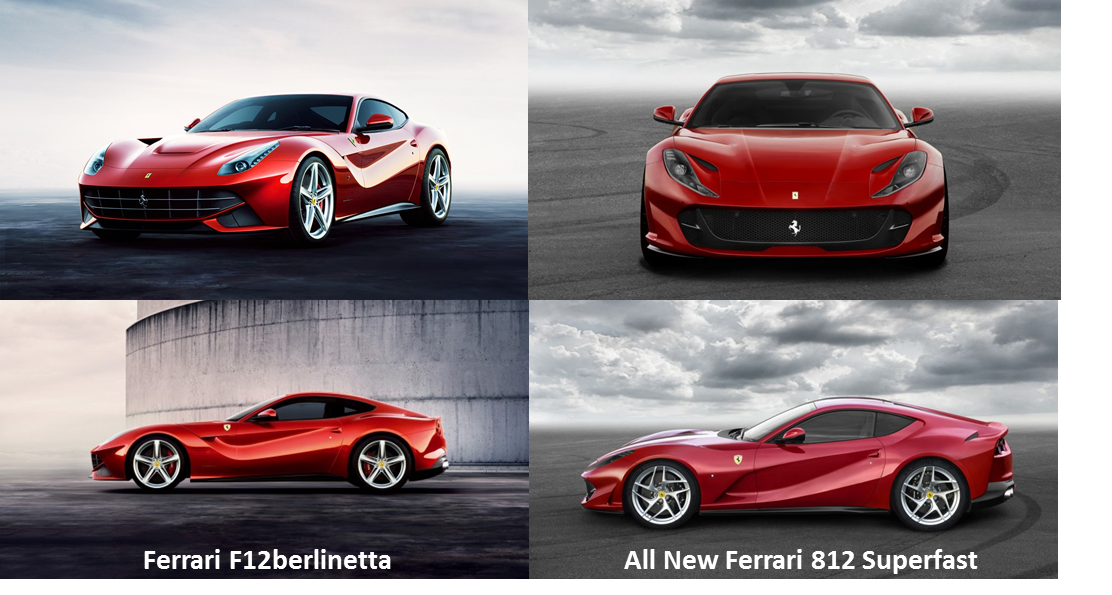 The interior of the F12 replacement matured into a more angular dashboard and LCD instrument cluster display.
Don't let the name mislead you, the 812 Superfast doesn't involve any turbos, it continues with a naturally aspirated V12. A bigger, more powerful one of course…
Some more technical details about this beast include:
Engine: 6,5cc V12

Maximum power: 799hp @ 8,500 rpm

Maximum torque: 530lb ft @ 7,000 rpm

Maximum speed: 211mph

Acceleration: 0-62mph in 2.9sec

Length: 4,657mm

Width: 1,971mm

Height: 1,276mm

Dry weight: 1,525kg
Ferrari claims a zero-to-62-mph time of 2.9 seconds, a top speed of 211 mph and this model is aimed at those who demand the most powerful and exclusive Ferrari out there.
Bottom line, Ferrari just wants you to know that this new entry is just really, really fast.
This model will be shown at the Geneva Motor Show alongside all the specs and price details, stay tuned for all the details onWheelers!