VW has been teasing the idea of a new crossover for years now, a concept was lastly showcased 4 years ago at the 2014 Geneva Motor Show and we've been waiting for it ever since.
The hype for it was dying out slowly up until a couple of weeks ago… The production body of the all new VW T-ROC was recently spied completely naked ahead of its unveiling later this month!

This one is the smallest crossover made by the German automaker to date and it seems pretty promising inside out, the design definitely diverges from the rest of the VW lineup and its chunky fun looks are aimed at more youthful customers.
The T-ROC is a fun city-friendly practical crossover with 4x4 inspired looks, but why should you be interested? What's different about it? Let's dive into some details and find out…
Styling and Looks:
The new V

W

Crossover will be slightly larger than the Golf (The wheelbase of the T-ROC will be around 2.6m) and so this ultimately implies a larger and roomier cabin. However, unlike the Golf's serious interior, the T-ROC will feature a more hip and visually interesting cabin with glossy body-colored details on the dashboard and center console.
The production model should be similar to the Geneva Motor Show concept, it will preserve the same awe-inspiring LED headlamps extended along the full length of the front grille and the same boxy overall appearance that will extremely distinguish it from the Tiguan.
Interior: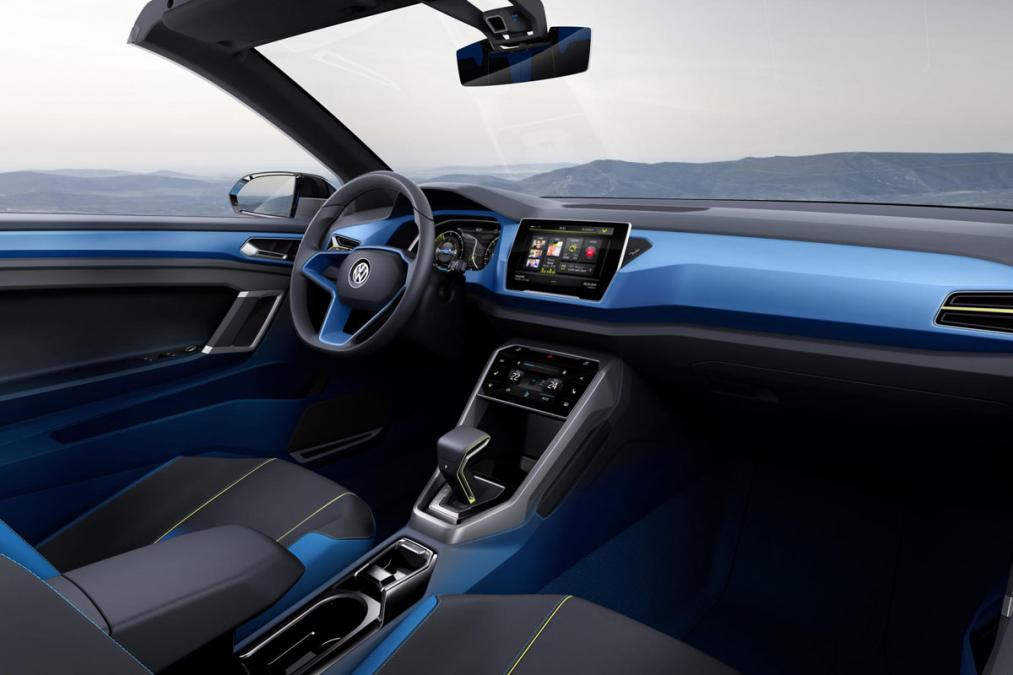 The interior will feature colors and contrast in the dashboard trim, the stitching and the upholstery. The infotainment system should be offered with a 12.3-inch information display along with a 9.2-inch touchscreen that will include Apple CarPlay/ Android Auto (since this is something younger buyers usually look for in cars).
Engine Details:
0 Turbo petrol engine producing 95 - 110 hp on the entry level model

5 Turbo petrol engine producing 150 hp

6 and 2.0L diesel engine producing 116 – 150 hp
6 Speed manual and 7 Speed DSG gearbox will be offered on most engine options, most entry level models will be front-Wheel drive and the higher-spec models will come in 4WD.
Hungry for more details?
The T-ROC is expected to roll out by the end of 2017 and the starting price should be somewhere around £20,000 (Approx. $26,000).
Sources claim that the T-ROC feels sporty and is surprisingly very responsive during hard cornering which is pretty impressive for a small compact crossover. Wind and tire noise is also very minimal at highway speeds.
Sounds pretty great… Let's hope it won't disappoint!
Check out all Volkswagen models in Lebanon, compare them and book a test drive on your favorite vehicle through wheelers.me
Did you know that Wheelers.me is the easiest way to find the car that fits you best?
Search for any car in Lebanon on Wheelers.me to view prices, options, special offers and car loans instantly- Start Exploring now!
x